The healthcare sector in Ireland is one of the largest employment sectors in the market.
This is reflected in the data, as 'Human and Social Work Activities' makes up 15% of employment, second only to 'Wholesale and Retail Trade, Repair of Motor Vehicles and Motorcycles' roles.
In this roundup, you'll learn the following healthcare industry employment statistics:
So, what is the state of healthcare employment in Ireland? Let's take a look:
How many people work in Healthcare in Ireland?
In Q2 of 2022 there are 331,100 people employed Health, 'Human and Social Work Activities' in Ireland.
With the population of Ireland sitting at just over 5 million, that means 1 in every 15 occupants of Ireland works in the healthcare industry.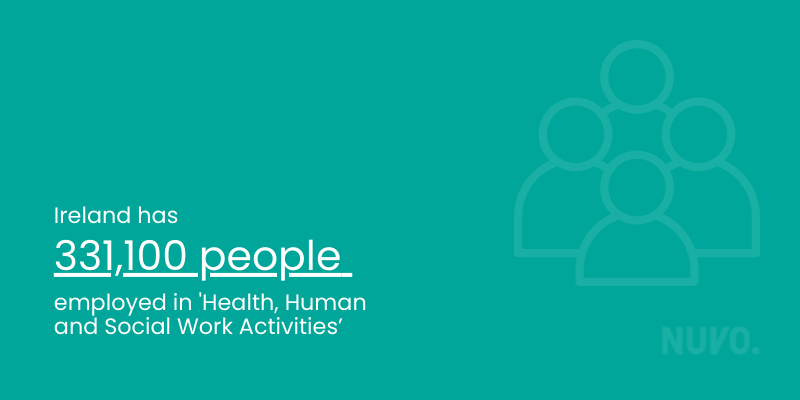 How many people work for the HSE?
As of September 2022, there are 135,245 people working for the Health Service Executive in Ireland
42,000 of these work in Nursing and Midwifery, followed by Patient & Client Care roles.
How many healthcare vacancies are there in Ireland?
There are 2,700 Human health and social work vacancies in Ireland as of Q2 2022
With this demand increasing year-on-year, it's likely that this demand is only going to get higher. Will international labour pools be the key to filling the gap of healthcare employment in Ireland? That's what we specialise in at Nuvo Healthcare Recruitment.
What are the most popular healthcare jobs in Ireland?
Although there is a lack of total data classified by job role, Nursing and Midwifery jobs are the most popular jobs in the HSE.
Nursing and Midwifery roles represent over 31% of the entire Health Service Executive workforce, with the least being General Support roles at 7.5%.
The highest increase in workers by job group is 'Management & Administrative, which saw a 20.1% growth in employment within the HSE between December 2019 and September 2022.
| | | | |
| --- | --- | --- | --- |
| Job Group | Dec 2019 | Sep 2022 | 34 Month Change |
| Nursing & Midwifery | 38,205 | 42,657 | +11.7% |
| Patient & Client Care | 25,719 | 28,205 | +9.7% |
| Management & Administration | 18,846 | 22,635 | +20.1% |
| Health & Social Care Professionals | 16,774 | 19,147 | +14.1% |
| Medical & Dental | 10,857 | 12,472 | +14.9% |
| General Support | 9,416 | 10,130 | +7.6% |
| Total | 119,817 | 135,245 | +12.9% |
Growth of employment in the HSE by Job Group
These job role groups are broken down even further inside the Labour Force Survey, published by the HSE.
Conclusion
Healthcare spending in Ireland increased by 44% in the years 2011-2020, which means indicates this industry is going to continue growing as we progress through 2022.
With the increased spending, comes an increased demand for workers. This is represented in the growing rate of open healthcare vacancies on offer in Ireland.
If interested in a career in healthcare, the prospects have never been more positive. Does this sound like you? Start or continue your career journey with us by taking a look at our jobs page.
Sources
https://www.cso.ie/en/releasesandpublications/ep/p-lfs/labourforcesurveyquarter22022/employment/
https://www.hse.ie/eng/staff/resources/our-workforce/workforce-reporting/health-service-personnel-census-september-2022.pdf
https://www.cso.ie/en/releasesandpublications/ep/p-elcq/earningsandlabourcostsq12022finalq22022preliminaryestimates/
https://www.statista.com/statistics/433207/current-healthcare-expenditure-ireland/